Simply a clever marketing term for a sleep position that is very relaxing.
Raising your back and legs to a certain position that you feel the pressure in the small of your back reduce.
This is simply the result of the profiling of the adjustable bed putting the lumbar region in better contact with the mattress. This reduces pressure on the surrounding area so muscles that are normally tense trying to support the lumbar region can relax.
It is certainly not literally zero gravity as that is impossible, but it definitely improves comfort, sleep and a whole host of medical conditions.
Zero Gravity adjustable bed position.
Zero gravity sleep position is not a set defined position and so there are infinite positions that can achieve this depending on the individual.
How to achieve the zero gravity sleep position.
The angle you raise your back is affected by the combined effect of the angle you raise your legs.
The 5-part adjustable bed will achieve this for more than 99% of people. For this reason, the 5-part adjustable bed mechanism is included as standard with our 'Build-A-Bed' feature.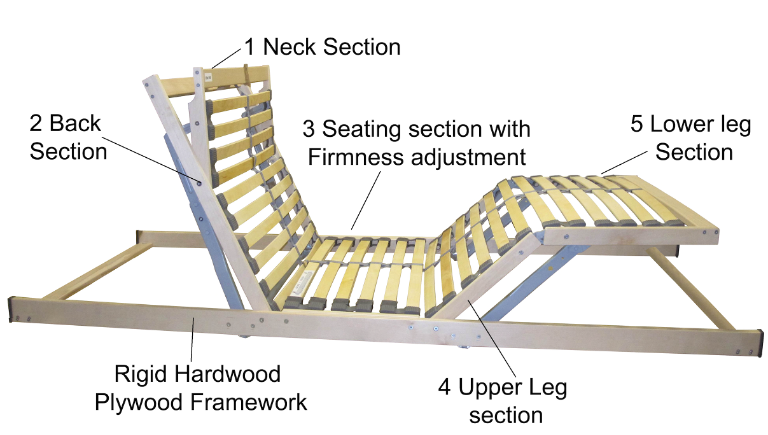 Which adjustable bed is Zero Gravity.
Claims that a particular adjustable bed will achieve a zero gravity position compared to another are generally nonsense however, several medical conditions will require you to sleep with either your back, neck, legs or feet at a slightly different position than is achieved by the 5-part adjustable bed. If you fall into this category, The 4 Motor Mechanism may be the solution to your needs.
4-Motor zero gravity adjustable bed mechanism.
If you have identified that you need to sleep with feet lower than your knees the 4 motor mechanism is available in combination with any of our adjustable beds but is relatively more expensive. Click Here to read more
---