Pocketmatic Pocket Sprung Mattress for Adjustable Beds
More information on our entry level 'Pocketmatic' pocket sprung mattress for adjustable beds. Our low cost mattress included when building your bed online.
For those that have enjoyed the benefits of a well-made pocket spring mattress in the past, our pocket spring mattress combined with a layer of memory foam will provide excellent comfort and flex with an adjustable bed.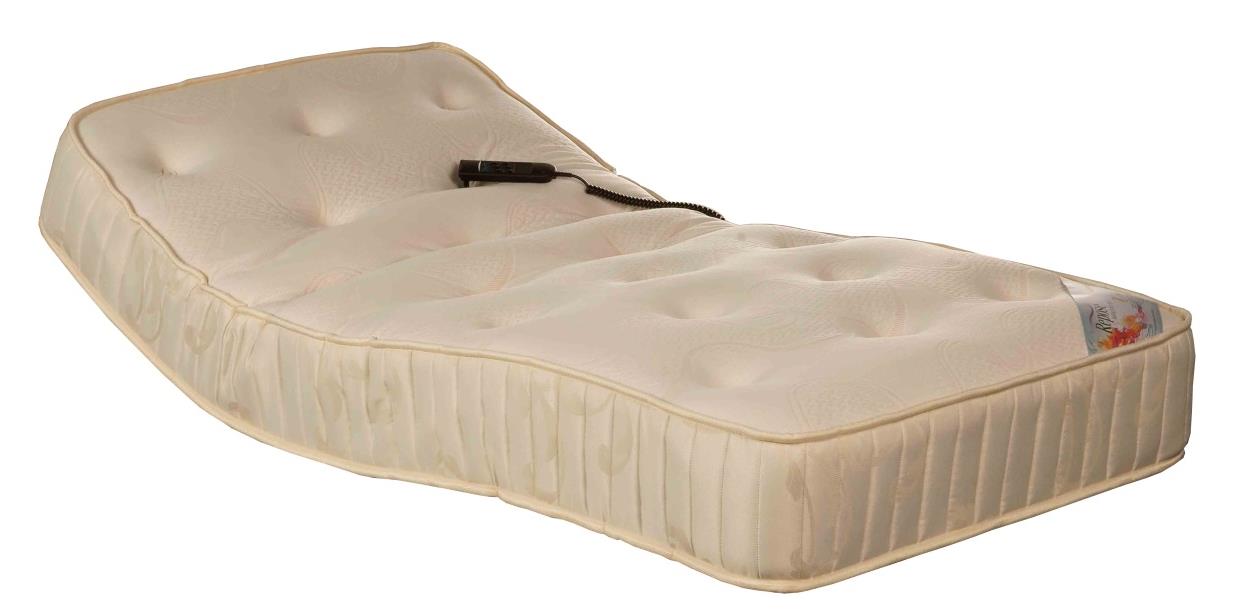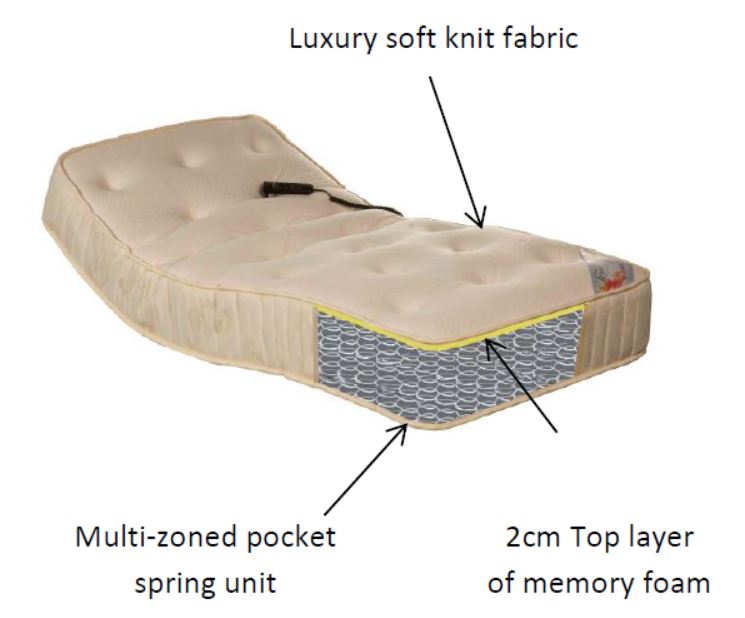 How it Works
Hand tufted
Multi-zoned pocket spring unit
20mm memory foam integrated into the top layer
Luxurious soft knit fabric
Hypo-allergenic materials
No-turn mattress
2 Year Warranty
| | |
| --- | --- |
| Width | 2'6″ (76cm) 3′ (91cm) |
| Price Excluding VAT | £150 |
For further information into the Pocketmatic mattress then please read below;
For the purpose of having a low starting price we introduced the pocketmatic mattress into our mattress range. We would like to point out that the main benefit of this mattress is that it is cheap. It maybe unprofessional to state that, but High & Dry Manufacturing Ltd has built up a reputation for quality adjustable beds and waterbeds over the past twenty three years. Until the boom of the internet we relied on recommendation from happy customers. If we told customers that this was even a half decent mattress then we would be misleading them.
The Pocketmatic mattress is designed for use on an electric adjustable bed. A conventional pocket sprung mattress has a wire frame around the top and bottom edges that tie the springs in position. For this reason a conventional pocket spring mattress will not flex with the movement of the electric mechanism. The pocketmatic mattress gets around this by simply doing away with the wire frame which in turn allows the mattress to flex. What effect will this have on the life expectancy of the mattress? The honest answer is that we do not know. Considering that this low cost mattress is expected to flex with the profiling base in the same way that our high quality mattresses perform. We are not over confident and have only applied a one year guarantee. This does not affect the five year guarantee that comes with our five part mechanism. We would strongly recommend upgrading to one of our range of better quality mattresses. Whilst the adjustable mechanism provides the profile it is the mattress that provides the comfort and support, so skimping (I'm not sure that's a real word, but the spell checker didn't pick it up) on the mattress is a false economy. At the time of writing this article, when purchased as a complete profiling bed the price difference between the Pocketmatic and the Reflex Foam Mattress is only forty pounds. If you want a pocket spring mattress and also want quality, then the best pocket spring mattress specifically designed for an adjustable bed is as the name suggests, our High Quality Memory Foam Mattress. Priced as a single size bed, this would add one hundred and forty pounds to the price.
So if the Pocketmatic is not recommended, why do we sell it? Simple, we try not to sell it. Why do we include it in our range of mattresses? The internet means that members of the public look for cheap adjustable beds online based generally on two things, price and quality. Price first. We are more competitive than online and bedding superstores which include a pocketmatic quality mattress. We know they are not wonderful in comparison to other mattresses. So if we offer the option of the same low quality mattress, customers can then compare prices like for like. This is not strictly true because our adjustable bed mechanism is in a totally different league for quality. We would recommend upgrading the mattress. The combined price of our prestigious five part profiling bed mechanism with your choice of our better quality mattresses should still come out less than our competitors because you are buying directly from the manufacturers. You can always email or call to discuss your mattress with one of our experienced advisors.