Choosing the Colour of Your Adjustable Bed
Back Care Beds is a division of High & Dry Manufacturing Ltd. We do not import our adjustable beds from the Far East, Instead each bed is hand made by craftsmen in our workshops in Chichester, West Sussex. For this reason we are able to supply many different colours and materials.
From experience the vast majority of customers that choose from our shop in Portsmouth select one of our four most popular neutral coloured suedettes. However there are four additional Faux Leather colours to choose from as well. See image below.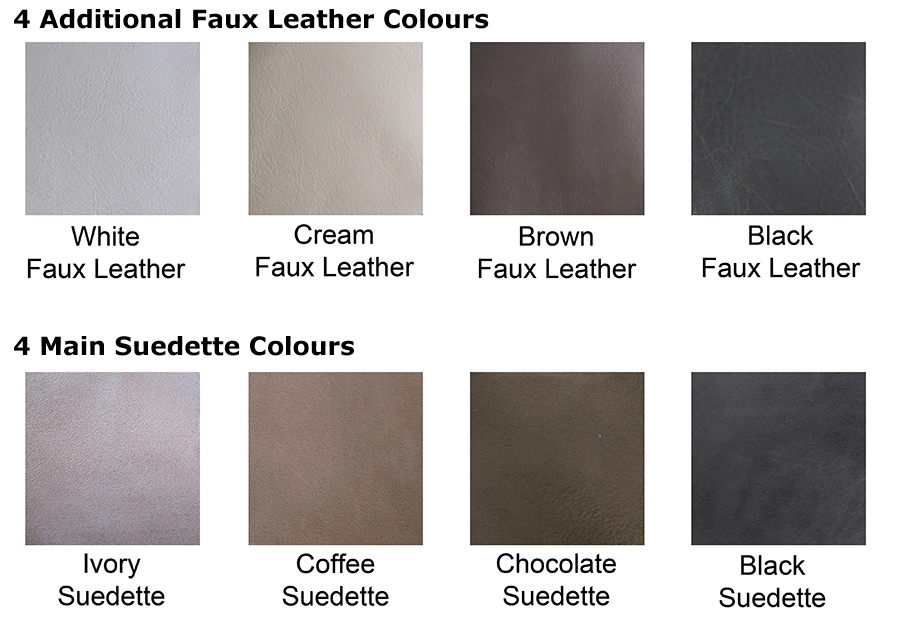 colours will complement your existing colour scheme. They are fire retardant and hard wearing. We buy these four colours in large quantities from the mill in Belgium which gives us a very favorable price. For this reason selecting an alternative colour or material will incur an additional cost of £50 we can send samples of our alternative materials to you by post, click here to request. These are a range of six chenille's, six very nice leatherette's and six suedettes of which four are our standard range shown above.
If you do not wish to delay the delivery of your adjustable bed please select any standard colour and contact us once you have placed your order. We will take your order with a note 'colour to be confirmed' and your order will be processed awaiting your colour selection. If an alternative colour is selected we can take the additional cost as a card payment over the phone.